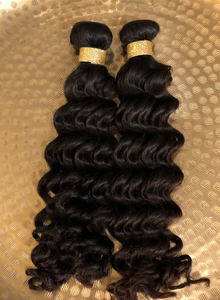 Deepwave
Ivy League Tresses
Regular price $95.00 Sale
Please schedule a hair appointment with your cosmetologist after you receive your Ivy L Tresses.  
Deep Wave is the best texture if you love a deeper wave. This gorgeous texture can be flat ironed straight, but looks the most beautiful in its natural state. For a full head of hair please use the following recommendations 12-14 inches (2 bundles or more), 18-20 inches (3 bundles or more), 22-26 inches (4 bundles or more) Our Body Wave's natural color is 1B; Natural Black.  All bundles weigh approximately 3 ounces. 
Luxury 100% virgin Brazilian hair extensions
Fully aligned cuticles
Not mixed with animal or synthetic hair
No thin ends
Same thickness of hair from weft to tip
No tangling
No shedding
No odors
Lifespan of 2 years if cared for properly 
Can be bleached
Can be dyed
Maintenance Level: MEDIUM
Hair Care/ Maintenance 
DeepWave Texture 
Waves are gorgeous, but require a tad more maintenance. DeepWave is one of our most versatile textures. It can be worn with its natural texture, it can be curled, it can also be straightened. Please be aware that when heat is added to this texture, waves will not be as defined as they were before heat was added. 
Before Installation
It is recommended to co-wash your tresses to define your waves. It is important to rinse this texture with cool water. A warmer temperature will loosen your wave pattern. Let your extensions air dry for the best result.
After Installation 
To keep your waves gorgeous, it is recommended to wet your hair with a spray bottle mixed with a conditioner when your hair begins to appear dry or frizzy. We recommend a conditioner by "curls unleashed" . Or you can use a curl refresher/ detangler.  When it is time for bed, braid your hair in two large braids. It will help maintain your wave and decrease tangling during the night. Never go to bed with your hair wet, it will lead to matting. Wash and condition with "curls unleashed" shampoo and conditioner to keep the definition of your waves. However, any sulfate-free shampoo and conditioner will work.